About Dr. Lucy Postolov DACM, L.Ac.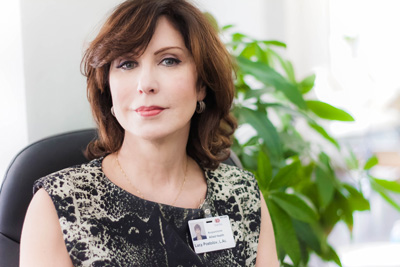 The American dream is often defined by a 'rags to riches' story. In Dr. Lucy Postolov's situation, she left behind Russian culture, intelligent and educated family members and career achievement to pursue spiritual and political freedom. Lucy Postolov was born in 1960 in Tashkent, capital of Uzbekistan, at that time one of the republics of Soviet Russia. By the time she was 23 she had earned her medical degree from Tashkent Medical School and later completed her residency in neurology. Always interested in Oriental Medicine, Lucy received her post medical specialty in Acupuncture and Acupressure. Being a strong willed woman, Lucy yearned for more out of life for herself and her family. In 1989, the government allowed Lucy, her husband Tony, and their 4-year-old daughter Annie to leave the country with two suitcases each – minus any valuables – and $90 per person. With only one distant relative in the United States, they arrived in California with a hopeful eye on an uncertain future.
Lucy was 29 years old when she arrived in America and she had to begin all over again. Her medical qualifications and those of her surgeon husband were not recognized in the U.S. While Tony retrained as a psychiatrist, Lucy supported her family by working as a lab technician at the California Cryobank. Working full-time, Lucy was also attending Emperors College of Oriental Medicine to obtain her master's degree in Oriental Medicine. Her average week would be eighty hours but she felt fulfilled since she was doing something meaningful.
After completing her master's degree in three years, she started an Oriental Medicine practice at a West Los Angeles Clinic, treating patients while continuing to work as a consultant at the Cryobank where she spearheaded the Stem Cell Program, years ahead of its time. Her success in her private practice allowed her to open her own Acupuncture/Herbology treatment center, The Postolova Acupuncture Group located in Brentwood. In 1999, Lucy continued her commitment to a holistic approach to healing by taking a position as consultant/acupuncturist with the ground-breaking Department of Integrative Medicine at the prestigious Cedars-Sinai Medical Center. In 2000 she was the first licensed acupuncturist to be granted full privileges at the world-renowned Cedars-Sinai Medical Center.
In 2010, Lucy received Board Certification in Integrative Medicine by the American Association of Integrative Medicine.
Lucy's passion for helping others has her working with a wide variety of health issues including cancer, infertility, weight loss, menopause, neurological disorders, addiction etc. She has been certified by NADA (National Acupuncture Detoxification Program) and works successfully with many different types of addiction. In 2001,she released a meditation CD for patients with cancer pain. Her work with oncology patients was recognized by the Israel Cancer Research Fund and she was honored with the "Woman of Action" award in 1998. She has also appeared on numerous news programs as an expert in Traditional Oriental Medicine and has been featured on the KCET program Healthweek and ABC's Good Day L.A. In 2008, Lucy contributed a chapter to the book "Guidebook of Sexual Medicine".
Hundreds of Lucy's patients were able to make their biggest dream come true and have children. Lucy works with infertility patients, when Western OBGYN gave up and she's also working with many famous fertility doctors, hand in hand.
Lucy is an expert when it comes to female disorders. Polycystic ovaries, Endometriosis, fibroids and many hormonal disorders.
Lucy lectures both internationally and nationwide. She has been invited to speak in Paris and here in the USA at UCLA, Tulane School of Medicine, Cedars-Sinai Medical Center, Tower Oncology Cancer Research Foundation, Cancer Support Community / Benjamin Center and many others.
She is on the Physician Advisory Board for the Cancer Support Community. In 2012, Lucy was invited as an Independent Consultant for the Cedars-Sinai Samuel Oschin Comprehensive Cancer Institute.
In 2019 Lucy received her second Doctoral degree in Acupuncture and Chinese Medicine (DACM)
Lucy's work is a testimony to not only the vital treatments she offers, (support of cancer patients, infertility, inch and weight loss, facial rejuvenation and many others.) but to her ability to understand the best of what Chinese and Western medicine has to offer. She works hard and she knows what it means to live fully