Acupuncture for Kids
Acupuncture for children is gaining popularity every day.
It is painless and easy.
The reason for that is that I am using silver seeds, applying them to acupuncture points which have surgical adhesive on the back of the seed. I do it as if I would play with the children by applying stickers on top of the silver seed. That kind of treatment we are doing for children at the age of 3 months to 4 years.
For children from 5 to teenage years I am using 'hair thin' needles which are virtually painless. Pediatric acupuncturists are trained to use special needling technique.
Acupuncture has been used therapeutically in China for thousands of years. Its popularity grows not only in the United States but Europe as well.
Conditions that Acupuncture can help with children:
Asthma
Seasonal Allergic Rhinitis
Neurological Disorders: Nocturnal enuresis (bedwetting), epilepsy, cerebral palsy
Depression
Anxiety
Insomnia
Hyper-activity
ADHD
Gastro-intestinal disorders: Diarrhea, constipation, IBS
Muscular-skeletal pain
Headaches
Migraines
Nausea and vomiting for cancer patients
Addiction in teenagers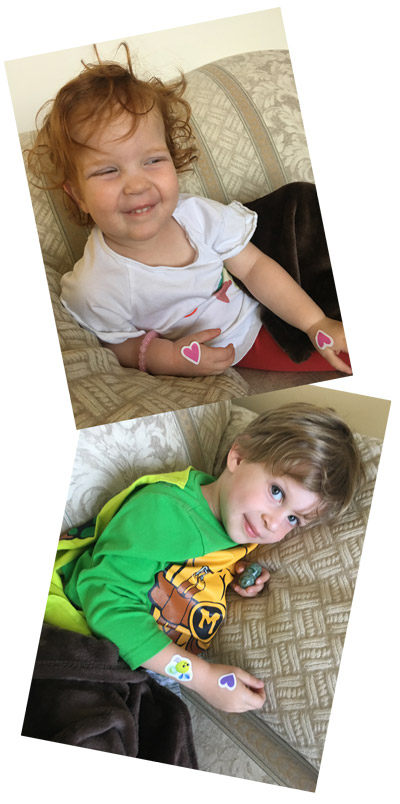 Malcolm and Poppy love getting acupuncture from Lucy Postolov.
Safety
The National Institute of Health Consensus Statement states "one of the advantages of acupuncture is that the incidence of adverse effects is substantially lower than that of many drugs or other accepted procedures for the same conditions".